My name is Dr. Theresa Dellinger, but I go by the nickname of Tree. I'm the collections manager for the Virginia Tech Insect Collection (VTEC). I've spent much of the past semester moving the collection from an off campus storage location into its new home in Seitz Hall. It's good to have the collection back on campus, where it will be readily accessible for study and research.
Our room in Seitz was renovated last fall with new flooring, new paint, new air conditioning, and a new dehumidifier. It's a large room with plenty of space for work tables and microscopes, desks and computers, and students and staff. Although the room is in the basement, there's excellent work lighting available and even a large bank of windows along one wall that lets in natural light.
Right after the new year we received our order of over 1,000 new Cornell drawers and a staggering number of new unit trays to go into those drawers. Our new insect cabinets should be arriving in another month or so. New cabinets, new insect drawers, new unit trays. Rarely does a collection manager have an opportunity like this to refresh a collection with new components, and we're excited to begin restoring the collection.
This week we started transferring the old unit trays containing the pinned specimens into new insect drawers. It's a bit monotonous after the third or fourth hour, but the work is going smoothly with my team of student helpers (supported by an NSF Collections in Support Biological Research Collection award, DBI#1458045). We're fortunate to have two undergraduate students and a master's student to help with this process. Our goal is to complete this transfer before the new insect cabinets arrive, and then we'll install the new drawers into the new cabinets.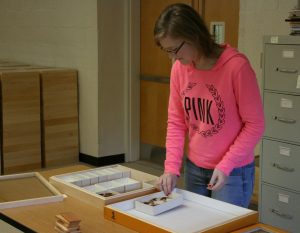 After that, all of the specimens will be transferred from the old unit trays into new ones. This will be time consuming because insect specimens are fragile and can be damaged if handled too roughly. Moving each individual specimen into its new unit tray will require much care to avoid having legs or other appendages fall off unnecessarily. I will probably have to give up coffee during this part of the project.
On the bright side, I'm getting to see the collection up close for the first time in quite a while. Some of our specimens are things you just don't get to see every day, like these gorgeous scarab beetles [Coleoptera: Scarabaeidae, Chrysina strasseni (Ohaus)] from Honduras.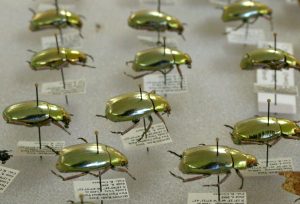 This is also an opportunity to see what parts of the collection are in the most need of curation. The VTEC has not had a full-time employee to care for it for a number of years. One member of the department gave some of his time and a chunk of his budget to maintain the collection, but he was unable to fully curate it due to time constraints and budget limitations. We haven't had someone available to work in the collection beyond very basic maintenance until now, so there's much work to be done. At the very least, the collection is currently in a circa mid-1990s phylogenetic order, so there will be a lot of shuffling to get the specimens into an up-to-date arrangement.
While we have a number of donations waiting to be incorporated into the collection, the overall growth of the collection has been a little flat recently. My role as collections manager isn't specifically to grow the collection, but I hope to add some fresh material from Malaise traps and sweep net sampling this year. It's going to be a very busy, but very satisfying year in the basement of Seitz Hall!